You must allow cookies and JavaScript for a proper shopping experience.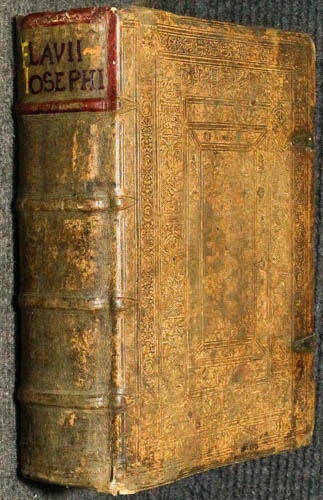 Price: $1,125.00
Publisher: Strasburg, Samuel Emmel : 1564
Seller ID: 39624
Binding: Pigskin
Condition: Very Good with no dust jacket
---
Short folio; Jewish priest, scholar, and historian who wrote valuable works on the Jewish revolt of 66-70 and on earlier Jewish history. In 67 C. E. Josephus and other rebels were cornered in a cave during the siege of Jotapata and took a suicide pact. However, Josephus survived, and was taken hostage by the Romans, led by Vespasian. Josephus winds up in Rome, sponsored by none other than Vespasian, the Roman Emperor, and being paid to write the history of the Jewish people. And because of that, and because of his happy life that he lived out during his days in Rome, many people have distrust...
View More...
Price: $895.50
Publisher: Oxford, E. Theatro Sheldoniano : 1700, 1687
Seller ID: 38828
Binding: Vellum
Condition: Very Good with no dust jacket
---
Lg. 4to 14½"; 352;[4],132pp. pages; . .. Gr. Lat. Cum Exemplaribus MSS. Collati, & illustrates Notis amplissimis D. Edvardi Bernardi S. T. P. Fl Josephi HISTORIARUM de Belo Judaico Liber Primus, et Pars Secundi, Gr. Lat. Ad Codices MSS. Itidem recogniti & emendati. SECOND title dated 1687, with List of Subscribers. Engraving on title by MB. F. Bookplates of Bruno Gumlich and D. Guil Gesenii, possibly Heinrich Friedrich Wilhelm Gesenius (1786-1842) , the famous German orientalist and Biblical scholar. Author was a Jewish scholar and historian. Wing J1081. Provenance From the Library of Dr. Arth...
View More...